Are you a female aged 14-18 and attend a Secondary School in Ontario?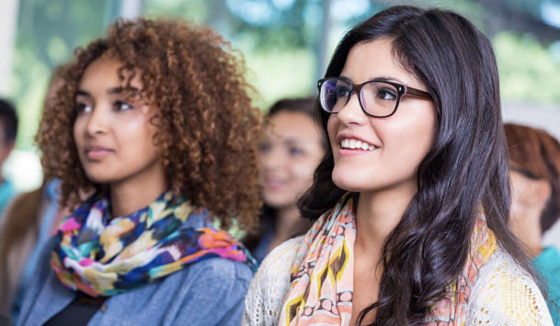 Then Maybe Our Volunteering and Mentorship Program is for YOU‼️
Are you an Ontario High School student who is female looking to complete your 40 hours of community volunteer service, virtually?
We are committed to help preparing females for their future careers whether as business owners or as players in the corporate world!. We do this by creating a supportive network with valuable experience. Our volunteers and  members have the opportunity to work from home completing different types of tasks and connecting to the team through the use of technology or by becoming involved in the planning of one of our events!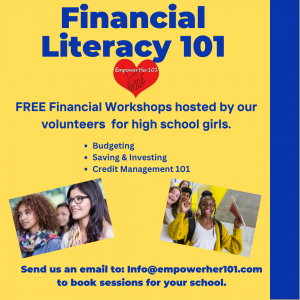 For a limited time only we are offering free financial literacy to girls in your high school.
Send us an email at Info@empowerher101.com to get more information on that.
Self-confidence
Healthy Relationships
Dress in the workplace or for your business
Scholarship preparation 101
Financial Literacy
Business Etiquette
Approaching The Industry Of Choice
COURSES: 1) Secrets to Success - and 2) Building Your Business from the Ground Up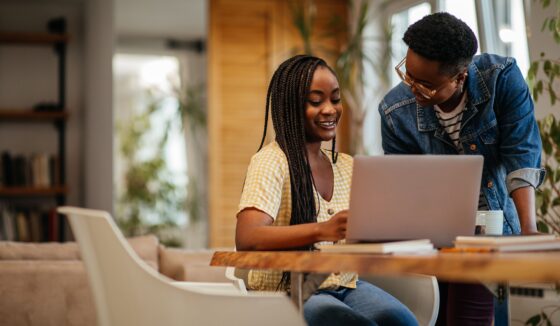 Do you want to design your dream life including income? ✨
We recognize that there are areas that are particularly important for our success in our businesses and our careers. Our e-learning course is specially designed and is geared to get you taking the reins of your lives!
Self-Development
Financial Literacy
Career and New Business Tips
Click Here to Register Today 💌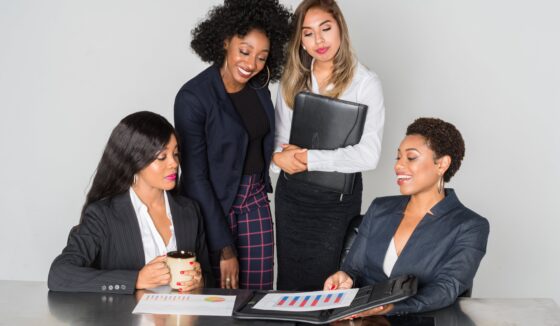 Here are Our Personal 4 Steps to Manifesting:
Write it down.
Decide logically how you get it.
Follow a daily plan of action to attain it.
Relax & believe that it's on it's way to YOU. 
Click Here to Get Our Goal Setting Tool Today 💌
Testimonials from Past Events
"Thanks Tamesha for putting on a fabulous event that was full of energy from start to finish. The panelists and presenters were engaging, educational and fun. I look forward to participating in the next one. "
"Empower Her 101 is truly changing lives through financial literacy"
"I thought the event was very informative and also entertaining for children! Definitely an event where the family can learn and play together!"
Thanks Tamesha for putting on a fabulous event that was full of energy"I attended the Make Money Family Event presented by Tamesha Mitchell and Empower Her 101. Let me tell you, this eventfull of fun and entertainment, not just for the adults, but he kids as well. I love that Tamesha had a free child care portion of the event which we as parents so appreciated. The event itself was full of amazing speakers who are influencers making moves in Toronto. The event was very informative and educational and there were a lot of take aways from the event. An event of this substance is much needed. Thank you Tamaesha and empowering Her 101 for bringing money matters to the fore front."
Our Mission
Our mission is to help females become financially literate and use this knowledge to start a business and/or advance their careers. Our goal is to help them to unlock their deepest desires tied to a career goal and/or business so that they are doing exactly what they want to do and love doing. The tools that we are providing for the females in our circle is helping them to scale their businesses/advance their careers in a timely manner while having smart goals that are tied to money goals as well.
Our Vision
The wealth that we are helping females to create is affording us the opportunity to live anywhere in the world and to operate our businesses from whatever address we have. We are mentoring females into creating various viable streams of income that include online businesses, real estate (private) as well as other types of investments including stocks. We are creating a mastermind group of female entrepreneurs and career-driven persons who have varying skill sets and who we are helping to create a blueprint for their lives through goal-setting, vision boarding and other goal-oriented activities. This community of individuals is accountable to each other in their goals and accomplishing their dreams. We are positioned to get media exposure worldwide which is also significantly impacting our businesses.
Empower Her 101 is a not-for-profit networking organization. Our goal is that females will be inspired to advance in their careers and/or start their own businesses and we provide mentorship to teenagers. Our flagship service is teaching financial literacy through workshops and fun community events.
Learn More About Empower Her 101
Choose Empower Her 101 to volunteer and get your forty hours or to help you get that business up and running or to market your services on our platform. Attend one of our workshops or events and learn how to manage your personal and business finances! Become a member and access amazing member benefits. Inquire for details!
Mentorship 26 yrs
Financial Literacy 6 yrs
Events 26 yrs
Marketing 10 yrs
Mentorship - 26 years
Financial Literacy - 6 years
Business - 6 years
Events - 26 years
Marketing - 10 years
OUR FOUNDER
Tamesha was an educator for more than 20 years with some international teaching experience. Her areas of speciality include Law, Social Sciences as well as Special Education. She uses a trauma-informed lens as she interacts with others. She is an award-winning entrepreneur who enjoys mentoring, event planning and is committed to building communities. This passion further came to life when in 2016 she was recognized as a Black Canadian Role Model and began networking with other like-minded women outside of teaching. After spending some time in the financial services sector, she decided to birth Empower Her 101 to help females commit to ongoing personal growth. She also helps women to advance in their careers and/or start their own businesses and uses financial literacy as the platform as she engages them.